LGA Studios was proud to be featured in the Spring issue of SPRINGS Magazine in an article by Cameron Moix all about current home style trends and how to make your space more inspired. We were also excited that the magazine chose to photograph a fabulous custom home LGA Studios designed in the Broadmoor Bluffs area to feature in the pages of the article, a stunning contemporary home that was a joy to design.
Check out the interview with Larry Gilland, below: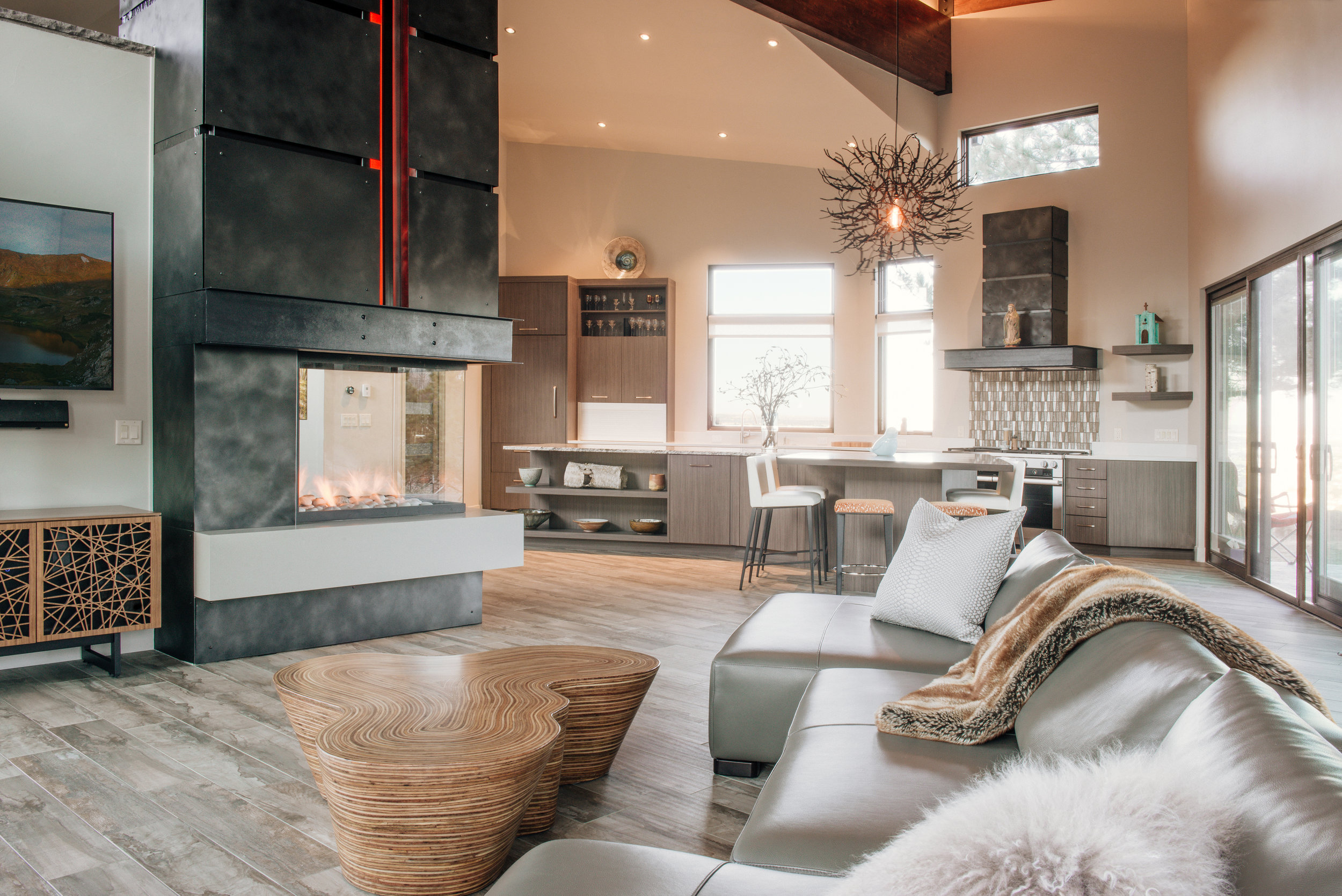 "The beauty of Colorado inspires design; the homes we create shape our lives," Larry Gilland says. Natural materials, forms, and light blend to root this Broadmoor Bluffs home to its natural environment and give it warmth.
Photo by Joel Strayer
SPRINGS MAGAZINE: HOW HAVE YOU SEEN ARCHITECTURE CHANGE IN COLORADO SPRINGS DURING YOUR 35-YEAR CAREER?
Larry Gilland: When I first started in the industry, there was a demand for more rapid suburban growth. We're now seeing a shift away from the suburbs back into the city centers and older neighborhoods, and many people—from Boomers to Millennials—are looking for homes that fit that engaged lifestyle. The homes may be smaller, but they are low maintenance, energy efficient, and connected to the community. There was some interest in solar homes when I first started, and I've been happy to see that interest in green building grow and become more prevalent as we develop new strategies and material innovations to make our homes more environmentally friendly.
SM: WHAT ARCHITECTURAL TIPS AND TRICKS CAN HOMEOWNERS USE?
LG: Websites like Houzz and Pinterest are great visual tools to help each client communicate their ideas into images. In our business of design, a picture communicates a thousand words. Take the time to find the style—or combination of styles—that speaks to you, whether that be Craftsman, Contemporary, Modern Farmhouse, or French Country. Your home should feel authentic to who you are.
SM: WHAT NOTEWORTHY TRENDS ARE YOU SEEING NOW?
LG: We live in such a stunning state, so integrating the natural beauty of Colorado is always going to be on trend here. Currently, we're seeing an increasing interest in modern and contemporary architectural styles, both locally and across the country. We enjoy putting our own Colorado Contemporary spin on that—using organic lines and local, natural materials, paired with plenty of glass to bring in the sunlight and Rocky Mountain views. Lifestyle drives trends as well—right now we're working with quite a few Boomers looking toward slowing down or retirement, many of whom want to transition to smaller one-level homes where they can age in place seamlessly. Many new buyers also love the older central neighborhoods, where they can add an accessory dwelling unit or a "granny flat" over the garage, giving them space for guests, aging parents, or to rent out on Airbnb.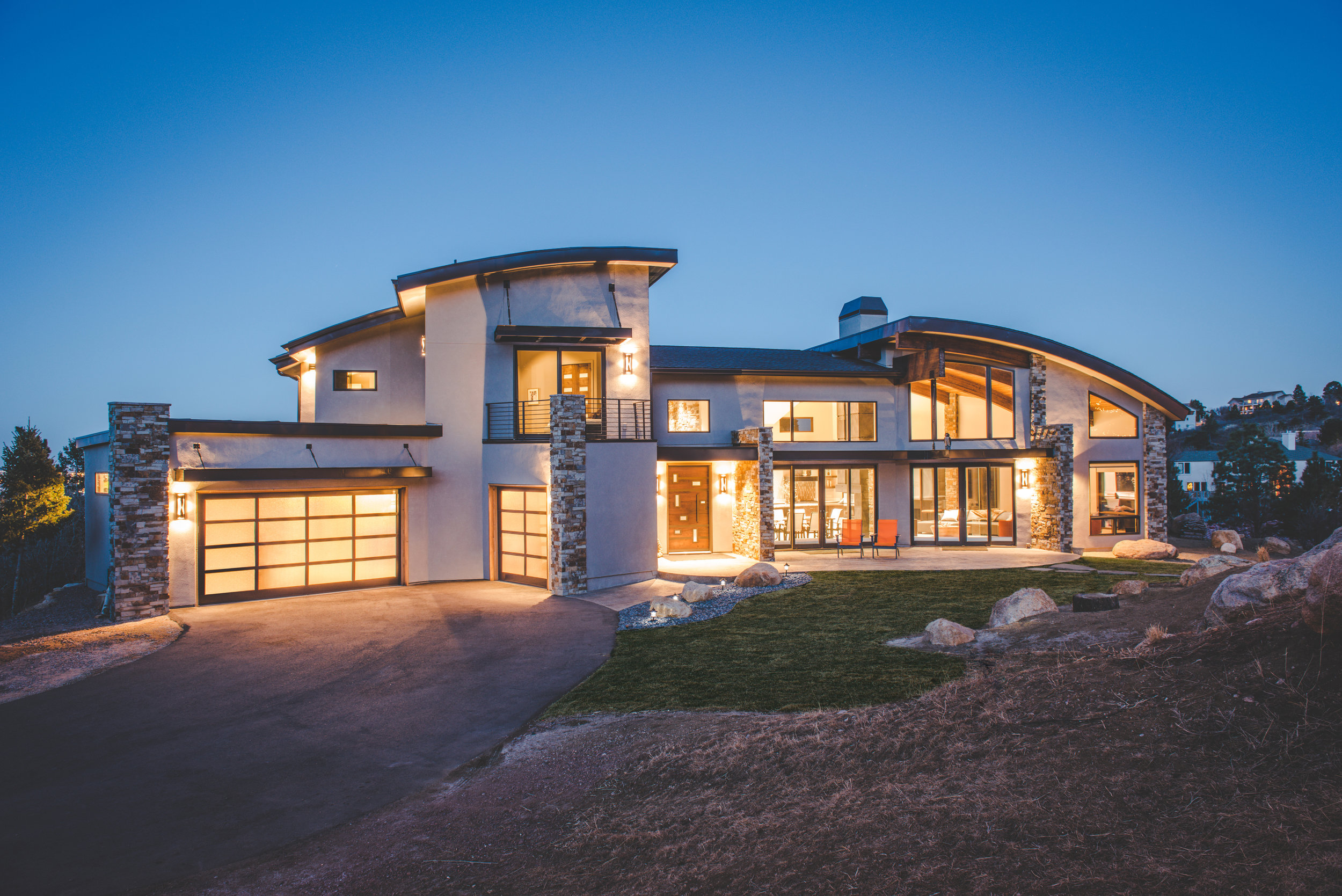 Windows and expansive glass were a major focus in designing this contemporary custom home. Gilland makes sure to spend time considering how to best situate each home on the chosen lot to both preserve native flora and take advantage of the views specific to each site.
Photo by Joel Strayer
SM: ANY DESIGN TIPS FOR SMALL SPACES?
LG: Look for ways to make the space feel twice as large. Use windows and mirrors to draw in the outside while expanding the visual space. Open the area by using half-walls, or openings to adjacent spaces. Raise the ceilings in proportion to the space and add clerestory or upper windows to expand the visual eye.
SM: WHAT DESIGN ELEMENT CAN BE INCORPORATED BY MOST ANYONE TO MAKE A MORE DYNAMIC LIVING SPACE?
LG: Always look for ways to bring as much flow and openness as you can. A great way to do that is to incorporate outdoor living space if you are able to. A patio that can be an extension of your family room for entertaining, a courtyard that can used for evening meals, a tiny deck with a single chair for reading, even a window that you turn into a focal point with your room arrangement.
You can check out the rest of the interviews with local experts including Doug Osinski with Picasso Homes, Matt Hiner with Hiner Landscapes, and Robin Paisley with Robin Paisley Designs in the Spring issue of SPRINGS Magazine.
SPRINGS Magazine celebrates the people, places, and culture of Colorado Springs. Be sure to subscribe to stay in the know about the latest restaurant and brewery openings, the hottest art shows, and the coolest trails.