As more and more builders consider building green, the topic of Green Materials always comes up. When it comes to cabinetry we love the look and feel of wood from cherry to alder - not necessarily a rapidly renewable material. Therefore to be green what do you do? Naturally, you may think of rapidly renewable materials such as bamboo or FSC certified wood products.
To expand your environmental consciousness about your cabinet decisions consider some of the following:
*The KCMA is the organization that represents companies who manufacture residential cabinets. KCMA advances the industry through standards, education and sponsoring research.
*The principle concern in residential cabinets is the use of formaldehydes in the panels used. Products such as Plywood, MDF and Particleboard must meet ANSI A20808-2009, the standard setting the safe level of formaldehyde emissions. All cabinet manufactures that carry the Seal of the ESP certification meet these guidelines.
*FSC (Forest Stewardship Council) lumber is material that is regulated by the FSC: a not-for-profit organization recognized in the LEED process as the authority for responsible forestry. Having wood that is FSC certified ensures that that the entire chain of custody has been tracked, from the forest to the consumer and including the manufacturing process.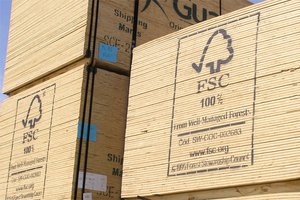 *Think about cabinet finishes. Films or sealants, stains and paints are the general applications for cabinetry. These finishes, according to the KCMA must meet standards for wear and tear and to be able to resist harsh substances found in many products from juices to vinegars. A least 75% of all finishes must be made in the United States, meeting KCMA's air standards for manufacturing.
*Finally when considering sustainable cabinetry, research the business practices of the cabinet company itself. Many companies will conserve the cabinet's factory waste
for other uses, such as wood scrap for animal bedding and sawdust to heat their manufacturing facilities. Other commendable practices to look for are in-company stewardship from promoting fuel-saving vehicles, to recycling efforts in the office and the factory, to company humanitarian efforts such as involvement with Habitat for humanity.
Cabinets have many component factors to consider when considering going "green". Additional information can be found at
Green Cabinet Source
.
Images taken from
House and Home
,
HouseLogic
and
Midland Cabinet Company
.